Modular System
Our new modular system introduces a whole new concept in safe deposit boxes-beauty, security, easy construction and low maintenance. The overall size of each module is 406mm high, 830mm wide and 610mm deep. It comes in with series A,B,C,D,DE,ED and F,etc.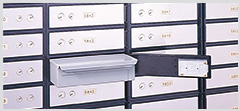 Casing
The casing is made of cold rolled steel with a bonderized baked enamel finish. Polished stainless steel door fronts and frosted blacktrim, these boxes excellent interior design for financial institutions.
Door
The door of the safe deposit box is made of ADC3 and mounted with 1.5mm SUS304 hair line stainless steel. When doors are closed, heavy flanges are recessed into jamb on the hinge side of each door making it as secure against attack as the lock side.
Hinge
Hinges are an integral part of the door casting.
Number Plates
Made of black plastic on which a number is hot stamped.
Key Tray, Bases, Canopies
Optional. 
Bond Box

Available to fit all sizes openings. It is made of 0.6mm steel plate and can be wide open to 180º at length 2/3 of the cover. Each box has been finely baked enamel with rust-proof finished. 

Bond Box Size (HxWxD mm)

(A) 67 x 119 x 551mm
(B) 117 x 119 x 551mm
(C) 67 x 252 x 551mm
(D) 117 x 252 x 551mm
(E) 241 x 252 x 551mm
(F) 357 x 252 x 551mm

Locks For Safe Deposit Box

Features:


High-tech deposit box locks combined with our 30-years' of professional assembling & producing experience.
Made of zinc-alloy, durable and security.
The keys are manufactured by computer
programs,it is never repeat.

Our products awarded
UL certificate.